Saugatuck Named one of America's Best Little Beach Towns by Travel & Leisure Magazine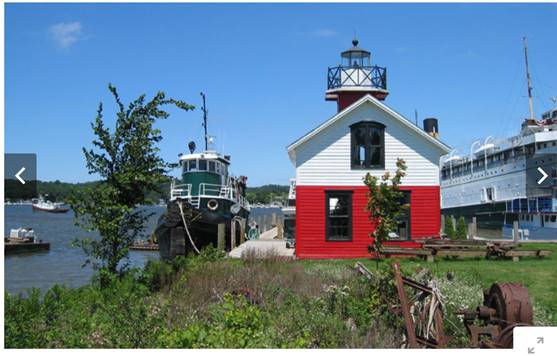 This former lumber town on the shores of both Lake Michigan and the Kalamazoo River has been a Chicago artist magnet since the 19th century, giving it the nickname the Art Coast of Michigan. Come and sketch the crazy-high sand dunes—the most popular being Mount Baldhead, a calf-burning 282 steps high—or ride the hand-operated chain ferry, the only one of its kind left in North America.
Video tour of
Campit Outdoor Resort
Campit is an outdoor resort for Gay and Lesbian adult members and their friends. We're located just 10 minutes from Saugatuck/Douglas, Michigan in the Midwest's most popular Gay and Lesbian vacation destination. In addition to camping for both tenters and RV'ers, Campit offers a number of lodging choices including 20 Log Cabins, a five bedroom Bunkhouse, and Vintage Trailers. Our weekly events and activities schedule, heated pool, clubhouse, and a variety of other amenities provide a variety of choices for outdoor recreation in a very social gay & lesbian environment.
April 14-16- Seasonal Appreciation Weekend (Seasonals Only)
April 21-23- Opening Weekend & Bear's FurrFest
April 28-30- Spring Volunteer Weekend
May 5-7- Showtime & Miss Campit Pageant
May 12-14- Spring Bear Weekend
May 19-21- Game On! Weekend
June 2-4: Go Girl Saugatuck
June 2-4: The Bachelors – Singles Weekend
June 9-11: Women's Brews and Bowling Weekend
June 9-11: Mr. Campit Cub Weekend
June 16-18: Leather Fetish Kink Weekend
June 16-18: Women's Hiking Dunes State Park
June 23-25: Luau & Vacation Week Kickoff
June 30-July 4: July 4th Holiday Weekend
July 7-9: Beach Party Weekend
July 14-16: Wild Wild West Weekend
July 21-23: Christmas in July Weekend
July 28–30: Trailer Trash Weekend
August 4-6: Women's Kayaking Weekend
August 4-6: Mr. Campit Bear Weekend
August 11-13: Retro Weekend
August 18-20: Mardi Gras
August 26-27: Fire and Arts Festival Weekend
September 1-4: Labor Day Weekend
September 8-10: LGBT Music Festival Weekend
September 15-17: Women's Chicks in the Sticks Camping Weekend
September 15-17: Indian Summer Bear Weekend
September 22-24: Volunteer Weekend
September 29-Oct 1: Wine & Dine
October 6-8: Halloween Haunt
October 13-15: Closing Weekend